Model Number: 191088-AV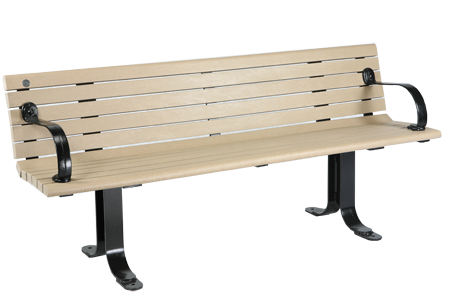 A sturdy and economical entry into the standard park bench category with a more classic look. Available with or without armrests. Curved or straight leg variant available. 100% recycled plastic lumber and powder-coated steel leg ends. Takes its name from the county of Nicolet, Quebec.
Available Recycled Plastic Lumber Colours
Product Specifications:
Produits Re-Plast Avantage +™ Recycled Plastic Slats
10 Year LIMITED WARRANTY
This product will not rot, splinter, or warp reducing maintenance costs over the life of the product.
Steel Structure with Steel Supports

Coated with InfiniGuard Professional Anti-Corrosion System
Standard colours are Textured Black and Grey
Cameleon Hardware

Surface Mountable
Customized Solutions:
Custom Powder Coating
(Set-Up Fees May Apply)
Arms (Acc-Public Place Dossier)
Center Arm
Skate blocks
INST-1 Stainless steel bolt down kit ( Installation Example )
MODEL NUMBERS (6 FT w/Back)
194110/GR - Grey Recycled Plastic Slats
194110/BR - Brown Recycled Plastic Slats
194110/VE - Green Recycled Plastic Slats
194110/SB - Sand Recycled Plastic Slats
194110/RW - Redwood Recycled Plastic Slats
Product Dimensions:
Height: 32 inches/806mm
Depth: 25 inches/633mm
Weight: 156 lbs/71kg
Recycled Content:
Recycled Content By Weight: 80%
100% Recyclable
Cleaning and Maintenance Instructions
Urbain Design Warranty
Wishbone Shipping Information