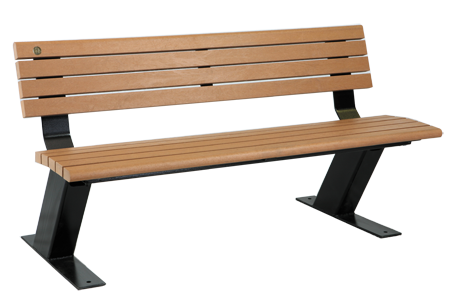 This bench is made from 100% recycled plastic lumber and powered coated or galvanized steel frame. Sturdy construction, narrow slats, and gently contoured seating make this model well balanced in terms of features and cost. Its easy to get in and out of and the angled leg does not represent a trip hazard. The wide gap between the seat and back accommodates a variety of users in comfort. Available with or without armrests.
Available Recycled Plastic Lumber Colours
Product Specifications:
Produits Re-Plast Avantage +™ Recycled Plastic Slats
10 Year LIMITED WARRANTY
This product will not rot, splinter, or warp reducing maintenance costs over the life of the product.
Steel Structure with Steel Supports

Coated with InfiniGuard Professional Anti-Corrosion System
Standard colours are Textured Black and Grey
Cameleon Hardware

Surface Mountable
Customized Solutions:
Custom Powder Coating
(Set-Up Fees May Apply)
Arms (Acc-Public Place Dossier)
Center Arm
Skate blocks
In-ground Mounting
INST-1 Stainless steel bolt down kit ( Installation Example )
MODEL NUMBERS (5 ft.)
194103/GR - Grey Recycled Plastic Slats
194103/BR - Brown Recycled Plastic Slats
194103/VE - Green Recycled Plastic Slats
194103/SB - Sand Recycled Plastic Slats
194103/RW - Redwood Recycled Plastic Slats
Product Dimensions:
Height: 32 inches/806mm
Depth: 22 inches/545mm
Weight: 168 lbs/76kg
Recycled Content:
Recycled Content By Weight: 38%
100% Recyclable
Cleaning and Maintenance Instructions
Urbain Design Warranty
Wishbone Shipping Information