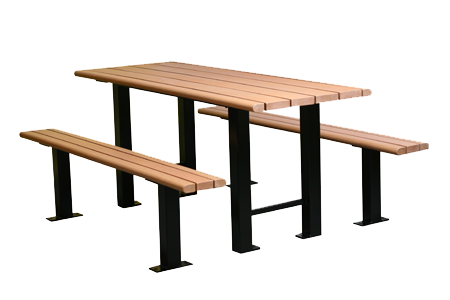 This steel and recycled plastic lumber design allows for placement flexibility by having the seats and table separate. With no connecting metal supports on the ground there is no tripping hazard and less opportunity for the steel to corrode. The bull-nosed boards on the seat and table top soften the edges and make for comfortable surfaces. Wheelchair accessible variants available where the user can access on either end or either side depending on where seating is installed (see Installation Gallery). Barbeque extension also available.
Available Recycled Plastic Lumber Colours
Product Specifications:
Produits Re-Plast Avantage +™ Recycled Plastic Slats
10 Year LIMITED WARRANTY
This product will not rot, splinter, or warp reducing maintenance costs over the life of the product.
Coated with InfiniGuard Professional Anti-Corrosion System
Available in Textured Black and Grey
Steel Structure

Camelon Hardware

Surface Mountable
Customized Solutions:
Custom Powder Coating Available
(Set-Up Fees Apply)
In-Ground Mounting
INST-13 Stainless steel bolt down kit (

Installation Example

)
MODEL NUMBERS
174423/GR - Grey Recycled Plastic Slats
174423/BR - Brown Recycled Plastic Slats
174423/VE - Green Recycled Plastic Slats
174423/SB - Sand Recycled Plastic Slats
174423/RW - Redwood Recycled Plastic Slats
Product Dimensions:
Height: 31 inches/792mm
Width: 60 inches/1530mm
Weight: 250 lbs/113kg
Recycled Content:
Recycled Content By Weight: 68%
100% Recyclable
Cleaning and Maintenance Instructions
Wishbone Limited Warranty
Wishbone Shipping Information