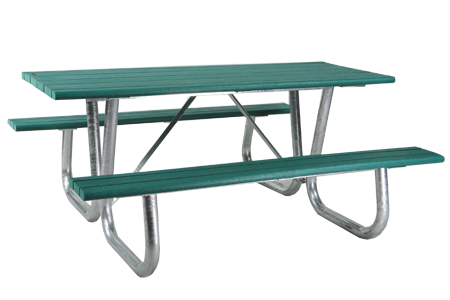 Durable and economical, the Public Place picnic table sticks to a traditional style seen almost everywhere in public parks. This design with galvanized steel legs has been adapted to make use of the advantages of recycled plastic lumber. The classic leg design has been modified to provide additional support and allow for expansion and contraction. This version of the Public Place picnic table has comfortable bull-nosed edges on the outside boards. A slightly different lumber configuration can be found on the Public Place Picnic Table (2 x 10) variant. To save freight costs this unit ships unassembled and is straightforward to put together.
Available Recycled Plastic Lumber Colours


Product Specifications:
Produits Re-Plast Avantage +™ Recycled Plastic Slats
Colours Available: Umber, Ocean Green, Sahara, Cherry Red, Moss Green, Carbon, Ash Grey, Yellow, Sienna, Blue
10 Year LIMITED WARRANTY
This product will not rot, splinter, or warp reducing maintenance costs over the life of the product.
Galvanized Steel Structure

Cameleon Hardware

Surface Mountable
Customized Solutions:
Custom Powder Coating
(Set-Up Fees May Apply)
8 ft. Length (174504)
Wheel Chair Accessible
INST-1 Stainless steel bolt down kit (

Installation Example

)
MODEL NUMBERS
174403/GR - Grey Recycled Plastic Slats
174403/BR - Brown Recycled Plastic Slats
174403/VE - Green Recycled Plastic Slats
174403/SB - Sand Recycled Plastic Slats
174403/RW - Redwood Recycled Plastic Slats
Product Dimensions:
Height: 31 inches/792mm
Width: 62 inches/1554mm
Weight: 258 lbs/117kg
Recycled Content:
Recycled Content By Weight: 60%
100% Recyclable
Cleaning and Maintenance Instructions
Urbain Design Warranty
Wishbone Shipping Information