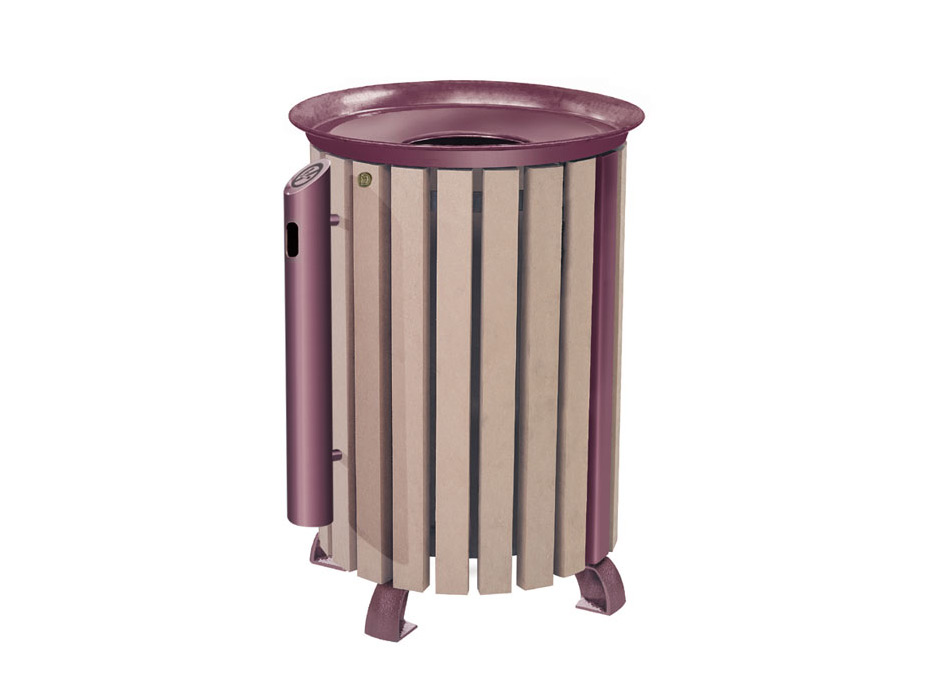 Designed to complement the Davinci Park Bench, this traditional style garbage can is functional and durable. The relatively small opening in the lid restricts the size and type of waste while its large 28 gallon capacity and locking side door make it easy for maintenance people to load and unload the internal waste bin. Side-mounted bottle/can recycler and ashtray available.
Available Recycled Plastic Lumber Colours

Product Specifications:
Produits Re-Plast Avantage +™ Recycled Plastic Slats
This product will not rot, splinter, or warp reducing maintenance costs over the life of the product.
Cast Iron Structure with Steel Supports

Coated with InfiniGuard Professional Anti-Corrosion System
Standard colour are textured black and grey
Stainless Steel Hardware

Galvanized Liner Included

Side Opening

Surface Mountable
Customized Solutions:
Custom Powder Coating
(Set-up fees may apply)
Bottle and Can Recycler
INST-1 Stainless steel bolt down kit (

Installation Example

)
MODEL #'s
284402/GR - Grey Recycled Plastic Slats
284402/BR - Brown Recycled Plastic Slats
284402/VE - Green Recycled Plastic Slats
284402/SB - Sand Recycled Plastic Slats
284402/RW - Redwood Recycled Plastic Slats
Product Dimensions:
Height: 37.5 inches/955mm
Diameter: 27 inches/690mm
Weight: 183 lbs/83kg
Capacity: 28 US gal/109litres
Recycled Content:
Recycled Content By Weight: 80%
100% Recyclable
Cleaning and Maintenance Instructions
Preventative Maintenance
Waste Receptacles / Recycling Stations
Urbain Design Warranty
Wishbone Shipping Information